Master Name: Karasu Reiuji
Gender: Male
Age: 18
Height: 6'1"
Weight: 175 lbs
Appearance:
Karasu has short black hair, reaching just barely down to his shoulders. While it's combed down, certain areas do show sign of messiness. Either from appreciation for the appearance or laziness. His eyes carry a darkred, somewhat brown color.
On his back, he has two black wings reaching 69 inches each in full length. When not in use, his wings tend to be 'worn' around his body in a manner similar to a cape or cloak (only when he enters Hellraven Form). In terms of his clothes, he wears a fairly simple black suit with white shirt underneath. The buttons of the suit are of a dark green color. Tucked neatly into the suit is a darkred tie.
He also chooses to wear black shoes. Finally, he wears a cloak primarily of a black color. However shades of a dark blue are noticeable, giving it an almost dream-like quality. In order to hold the cloak in place, there is a dark green chain which clasps it into it's proper place and ensures that it won't slip off easily. (cloak is only worn in Hellraven Form)
Home: Toh District, Reiuji Residence
Biography:
Karasu was born into a family of non-traditional Magi. His Mother is Utsuho Reiuji, his Father is currently unknown. He lives with his Mother and his little Sister, Mokkah. There are also several people living with them that they are not directly related to. Including Satori Komeiji, Koishi Komeiji, and Rin Kaenbyou. Satori is skilled in mind-reading, as well as forcing others to think of their attack so that she can copy it.
Koishi operates on a subconscious level. Being able to scan through all of their thoughts and change it as she pleases so as to make herself and others invisible. And Rin... She's the Cat. Karasu has inherited most of his Mother's magical abilities. But has also learned from Satori and Koishi, resulting in him having some minor abilities in mind-reading and... Well, Koishi is the reason he's a "Chivalrous Pervert".
His Mana is about 1600 if he were to be able to make full use of his abilities.
Servant Image: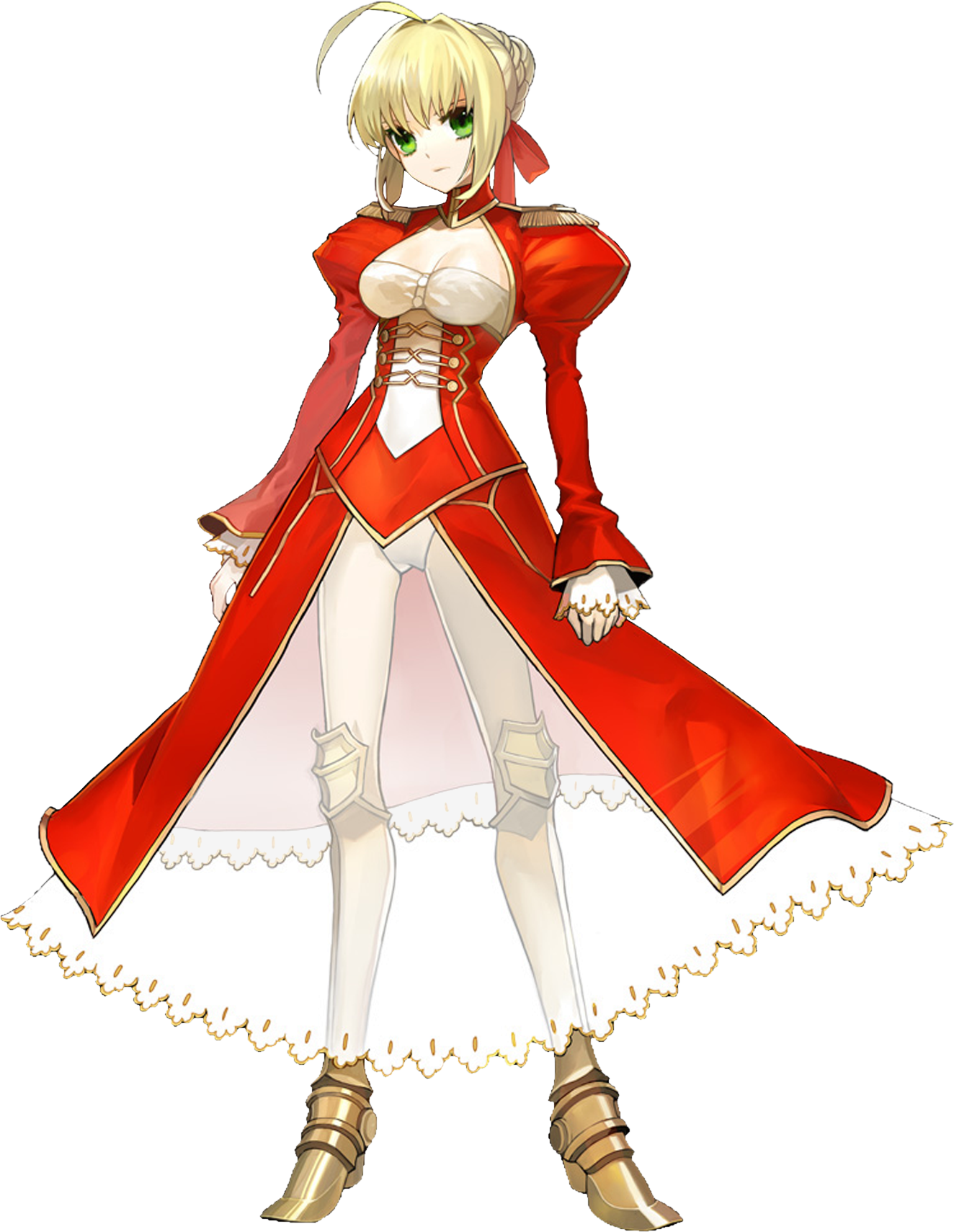 Command Seal:
Servant Class: Saber
Servant Gender: Female
Appearance:
Long blonde hair, tied into a bun. A strand of hair always sticks out in traditional ahoge format. Red Hairbow is used to keep her hair tied. Dark Green eyes and an elegant red dress. The dress itself is quite revealing. Being open-back, revealing the upper half of her backside. The front shows off most of her cleavage and seems to be purposely designed in such a fashion. The skirt itself is not see-through. But Saber claims that she
allows
others to see through it.
True Identity:
Spoiler:

Roman Emperor Nero Claudius Caesar Augustus Germanicus
Skills:
Strength: D
Defense: D
Agility: A
Magic: B
Luck: A
Noble Phantasm: B
Magic Resistance: C
Imperial Privilege: EX
Migraine: B
Noble Phantasm:
Spoiler:

Aestus Domus Aurea


Last edited by Amord on Sun Nov 23, 2014 6:33 pm; edited 1 time in total