Master Name: Alex Margatroid
Gender: Male
Age: 18
Height: 5'1"
Weight: 145 lbs.
Appearance: He has Black hair, blue eyes, and pale white skin, his clothes include a dark blue vest, a white long sleeved dress shirt with a red tie, and a red scarf, he wears dark blue pants with brown, fancy boots, around his waist is a belt holding various potions, disguised as nothing more than water bottles during the day and in public.
Home: The Margatroid Residence in the Toh District.
Biography: Born into a family of non-traditional magi, Alex specializes in familiar magic, alongside his Mother, Alice, his little sister, Okami and his Grandmother, Shinki. He also has a Grandfather named Nedus, although he is shrouded in mystery, and chooses to seclude himself in his room. They are all skilled in making dolls, except for Nedus, shells to work as pseudo-familiars, surprisingly, they can pass through some more basic magic barriers. He has a few friends, who, along with his family usually protect him from malicious others...Although, as a result, he's not too strong, mentally and physically, but he can at the very least, run well. He has about 1521 mana, above average for some magi due to his family's strong magical background. His family also has a Maid familiar woman named Yumeko, she was created by Shinki and is quite skilled at throwing swords, she often acts as a mentor and nanny to Alex.
His family owns and operates a shop in the Shopping District, "Margatroid Paranormal Shop", it deals in things of a spiritual or otherworldly nature, he works part time there in the afternoon to help out his Grandmother, who primarily runs the shop.
Servant Image: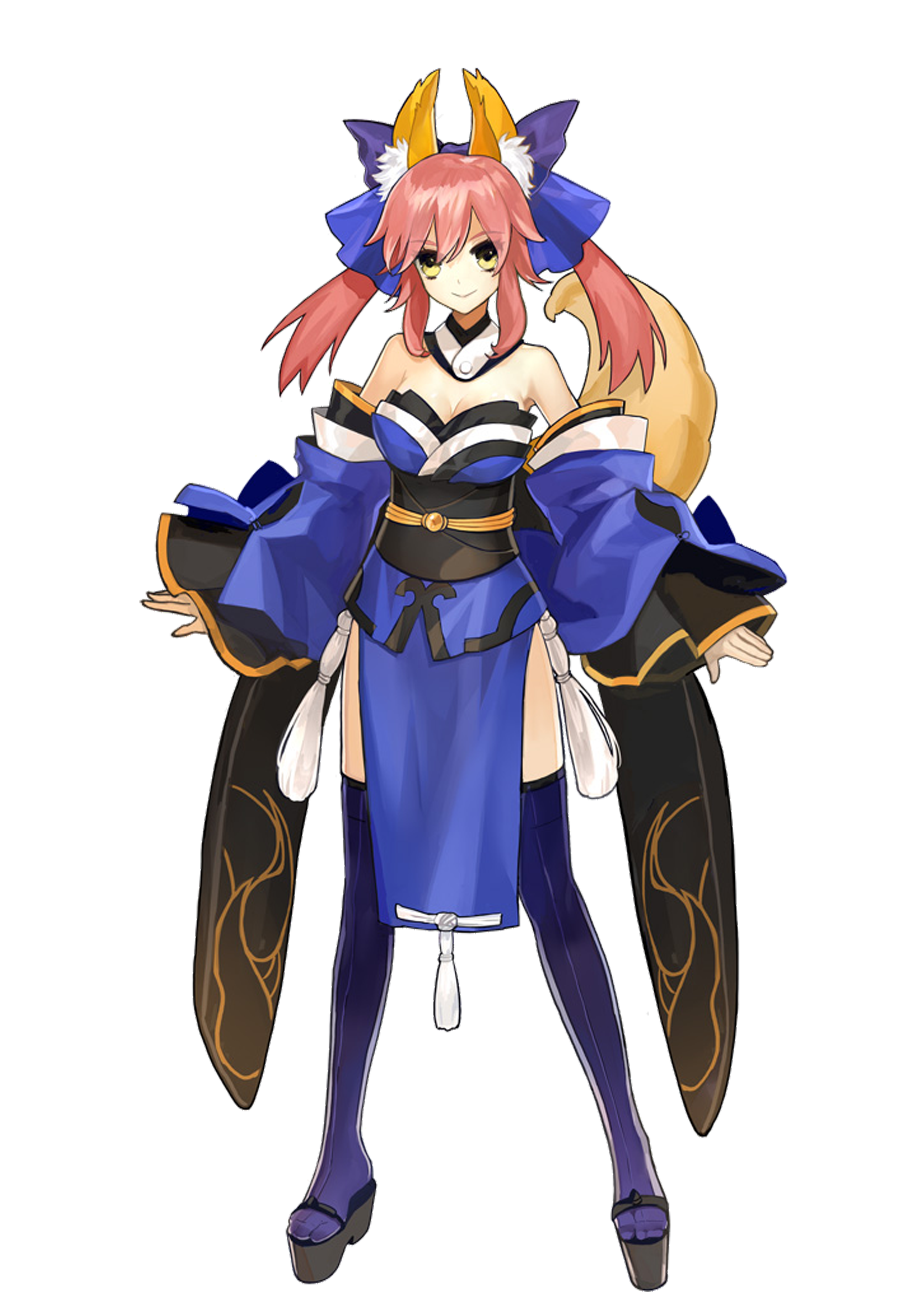 Command Seal:
Servant Class: Caster
Servant Gender: Female
Appearance: Has a short, blue kimono with tassels and detatched sleeves, she has short, pink hair and a blue hairbow, her hairstyle is done up in pigtails and her eyes are yellow, she has dark blue stockings going up to her thighs and she has black, tall sandals.
True Identity:
Spoiler:

Tamamo-no-mae
Skills:
Strength: E
Endurance: E
Agility: A
Magic: A
Luck: C
Noble Phantasm: B
Additional Skills:
Territory Creation: C
the skill to build a special terrain that is advantageous to oneself as a magus. Because it seems that her personality is not suited for it, Caster has difficulty in manufacturing even a Workshop allowing her to create minor amulets and other types of low-level talismans.
Witchcraft: EX
related to Dakini heavenly methods, and includes methods to discern one's time of death, secret arts to obtain influence, methods to attain status and fortune (for men) and methods to gain the favor of influential individuals (for women). Due to a number of very harsh lessons impressed upon her in the past, Caster no longer makes use of her still formidable skills in these areas.
Shapeshifting: A
skill that allows her to borrow people's appearance, however she does not feel like making much use of this skill due to a trauma of the past.
Noble Phantasm:
Spoiler:

Eightfold Blessing of Amaterasu


Last edited by Raymu on Wed Nov 26, 2014 6:21 am; edited 5 times in total